Christmas is Coming Fast
The four weeks from Thanksgiving to Christmas always seem to zoom by
soo
fast. Before Thanksgiving I have trouble thinking about starting my Christmas knitting, and if I wait until after Thanksgiving, there isn't enough time to get it all done. I have tried to get an earlier start - this year I started gift knitting at the end of September, beginning of October. My sister's birthday is 4 days before Christmas and I had something special to knit for her, so I'm glad I got started that early.
So without further ado, I give you my finished projects so far (I have a last minute gift on the needles)..........
Hope for a Cure socks for my Sis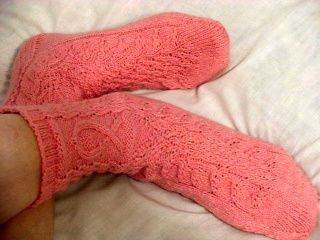 Details of the project are
here.

I would love to share more of my finished gifts, but don't want to take a chance on spoiling
any one's
surprises. Suffice it to say that my knitting needles have been moving so fast that they are smoking!! I have finished 3 gifts for Christmas and am on the fourth. More details after Christmas.
I will leave you with pics of beautiful fiber that I purchased in October at a small fiber arts show in Selma, Oregon.

Beautiful dyed mohair locks.......
and beautiful natural, soft wool roving. The dark grey is
Gotland
.
I can't wait until
Christmas
rush is over and I can dig into my spinning again.